JOURNAL DATE: 23.01.2010
CHANGES / UPDATES
OVERVIEWS
Trail Emitter
Finally. I did it. All Software Particle Engine Emitters are finished.
Next big thing then are the Software Shader Particle Emitters (more on that see below).
The last one of these Emitters is the Trail Emitter.
This time it was much more trickier to obtain a good result.
The SDK Trail Emitters render Trails and Streams basically on two ways:
Either an indipendent Master Particle is spawned creating a trail, OR a trail is attached to the Emitter itself.
Then the user can set up to 4 Different Rendering Modes:
TRender_Beam -> The Trail consists of Crossed Planes (16x,32x,64x Pixels wide) that orient to given Camera Positions (Player, Pawn, tagged actor etc.)
TRender_LongSpark -> a long, thin Line is rendered as Trail (1x Pixel in width)
TRender_Mesh -> The Trail consists of a Custom Mesh
TRender_Sprite -> The last type draws multiple Sprites as a Trail (of course the new Sprites)
Of course does the TrailEmitter support relative Scaling and Fading of the Trail.
Like for the Beam Emitters you can set multiple EndPoints the Trail will move at.
This way it's possible to dynamically draw smoothed trail-curves and so on (based on the fact it is caused by the destination, NOT the movement).
Preview:
After completing ALL standard Software Particle Emitters I now revamp and update the Software Shader Emitters.
Features:
Dynamically changeable Color
Texture U/V Scaling
Texture U/V Panning
Textuer U/V Tiling
Texture Combiners
Dynamic Text as Particles
Render To Texture on Particles
At first there'll be most certainly a Sprite- and Corona Emitter Version only.
The core technique is already working, but it needs a huge big clean up...
MEDIA
[youtube]6nLTaVm-Rm0[/youtube]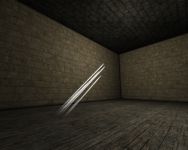 So now the Software Particle Engine goes 90 % ! Last 10 % are debugging and adding Software Shader Emitters.