Today they introduced the new line of videocards of nvidia.
Model numbers are as folow the 3070 the 3080 and the fastes 3090 line of videocards.
Those new videocards are having new ddr6x memmory wich is faster then de older ddr6 memmory banks.
Its the so called 30 series of nvidia.They still have no prize for these cards, but i think they go over the 1000 euro.
https://videocardz.com/nvidia/geforce-30
they are today posted with some other brands who making those new 30 series of nvidia gainward,asus ,tuf gaming and alot of more companys making those new cards.
Thay will aslso have raytracing onboard these cards and that in realtime.
Its al build around the new ampere architecture technology.
prizes:
game benchemarks:
Ampere core: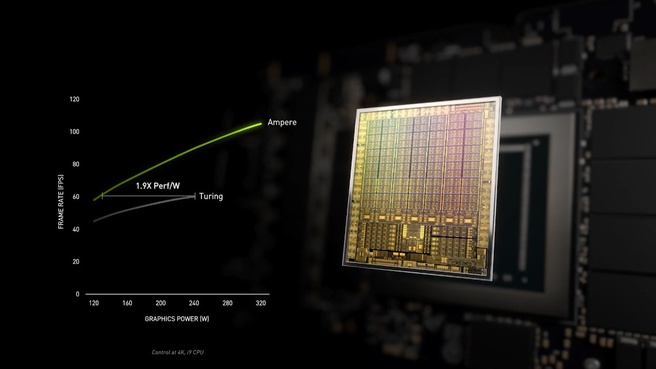 Doom eternal 2080 ti versus 3090 gtx.4k resolution!Look at the fps on the upper right corner of this youtybe movie demo.
[youtube]
[/youtube]
happy watching!
Some usefull urls:
https://www.techpowerup.com/review/nvid ... s-edition/
https://www.guru3d.com/articles-pages/g ... iew,1.html
https://www.computerbase.de/2020-09/gef ... 3080-test/
https://www.techtesters.eu/nvidia-gefor ... 80-review/
https://www.overclockersclub.com/review ... s_edition/
https://www.techpowerup.com/review/nvid ... s-scaling/
https://www.nvidia.com/en-us/geforce/ne ... ics-cards/
The new line of graphic cards of nvidia are using the new pci express 4.0 connection wich is olmost 30% faster that the old one.This was the version 3.0.
The 3090 version has a wopping 24 gb of ddr6x memmory
GEFORCE RTX 3090
GPU engine specifications: NVIDIA CUDA® Cores 10496
Boost clock (GHz) 1.70
Baseclock (GHz) 1.40

Memory specifications: Standard memory configuration 24 GB GDDR6X
Memory interface width 384-bit

Assistive Technology: 2nd generation ray tracing cores
Tensor Cores 3rd generation
NVIDIA architecture Ampere
Microsoft DirectX® 12 Ultimate Yes
NVIDIA DLSS Yes
PCI Express Gen 4 Yes
NVIDIA® GeForce Experience ™ Yes
NVIDIA Ansel Yes
NVIDIA FreeStyle Yes
NVIDIA ShadowPlay Yes
NVIDIA Highlights Yes
NVIDIA G-SYNC® Yes
Game Ready Drivers Yes
NVIDIA Studio Drivers Yes
NVIDIA GPU Boost ™ Yes
NVIDIA NVLink ™ (SLI-Ready) Yes
Vulkan RT API, OpenGL 4.6 Yes
HDMI 2.1 Yes
DisplayPort 1.4a Yes
NVIDIA Encoder 7th Generation
NVIDIA Decoder 5th generation
VR Ready Yes

Display support: Maximum digital resolution (1) 7680x4320
Standard display connectors HDMI 2.1, 3x DisplayPort 1.4a
Multi Monitor 4
HDCP 2.3

Founders Edition card dimensions: Length 12.3 "(313 mm)
Width 5.4 "(138 mm)
Slot 3 slot

Cooling and Power Specifications Founders Edition: Maximum GPU Temperature (in C) 93
Graphics card power (W) 350
Recommended system power (W) (2) 750
Additional power connectors 2x PCIe 8 pin
(adapter to 1x 12-pin included)

1 - up to 4K in 12-bit HDR at 240Hz with DP1.4a + DSC. Up to 8k in 12-bit HDR at 60Hz with DP1.4a + DSC or HDMI2.1 + DSC. With dual DP1.4a + DSC, up to 8K HDR at 120Hz

2 - Recommendation based on a PC configured with an Intel Core i9 10980XE processor. Depending on the system configuration, a lower energy rating may be sufficient.

Note: The specifications above represent this GPU as included in NVIDIA's graphics card design. Clock specifications apply when gaming with moderate to full GPU usage. Graphics card specifications may vary by expansion card manufacturer. Refer to the expansion card manufacturers' website for current shipping specifications.


happy readings